Mobile home rental Camargue
MH Olivier Comfort + 29 m²

from 59 € /night

MH Hibiscus Comfort + 32 m²

from 59 € /night

MH Lavender Comfort + 29 m²

from 76 € /night

MH Umbrella Pine Comfort + 30 m²

from 59 € /night

MH Cypres Comfort + 29 m²

from 76 € /night

MH Orange Premium 33m²

from 79 € /night

MH Laurel Rose Premium 33m²

from 82 € /night

MH HIBISCUS Premium + 32m²

from 79 € /night
Our mobile homes at the campsite
Outdoor hospitality is the preferred formula of family vacations ; in a spirit of nature with the comfort in more, we welcome you in our rentals from April 7st to September 24th in order to relax you in renting in camping Camargue in a green landscape, and reposant.
Two types of rental accommodation are available to suit your desires, and your budget, for small and large families, for cheap camping vacations.
And 25 mobile-homes with capacities of 4 to 6 persons.
Luxury is to have the choice of the day of your arrival:
Off-season, you can choose the day of arrival and departure ( 2 nights minimum)
In high season, we offer arrivals on Saturday, Sunday and Wednesday, in all our rentals, you can choose the duration of your vacation for 7, 10, 11, 14 nights or more.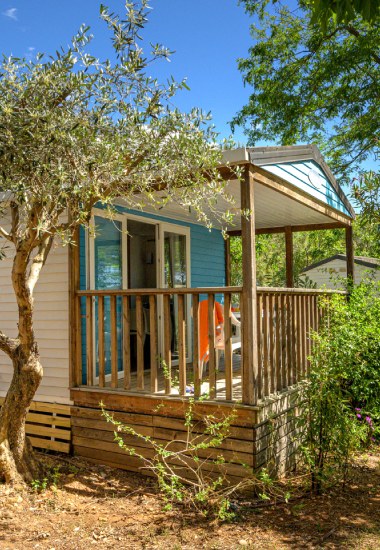 Your vacations in a mobile home
In low season, choose freely the day of arrival and the duration of your stay, from 2 nights minimum.
In high season, we welcome you on Saturday, Sunday or Wednesday; think of the busy weekends on the roads, and enjoy a Zen arrival on Sunday or Wednesday.
You have the choice of the duration of your summer holidays, for minimum 7 nights, but also possibility to extend the pleasure of relaxation, for 10, 11, 14 nights and more, enjoy the sweetness in the south, in Occitania, close to the Mediterranean Sea.


Our rentals in Mobil-Homes
To optimize your comfort, we offer you mobile home rentals which are mostly very recent, with quality, comfortable, modern and design services. All our mobile homes, installed since 2012, are equipped with a covered or semi-covered terrace. The Olivier model has a parent's room which offers a large bed of 160×200 as well as a space for a baby bed. All mobile homes are equipped with a television, with free access.
Several ranges of mobile homes are available:
2 Mobile homes Hibiscus 2018
2 Mobile-homes Pin Parasol : 2014
7 Mobile-homes Olivier comfort: 2 MH 2012, 1 MH 2013, 4 MH 2016
2 Mobile homes Lavender comfort: 2013
1 Mobile-home Cypress comfort: 2013
2 Mobile-homes Premium 3 Laurier Rose bedrooms: 2020
2 mobile homes Premium 2 Bedrooms – 2 Bathrooms Oranger 2020
2 Mobile-homes Hibiscus 2017
2 Mobile-homes Hibiscus 2019
3 Mobiles-homes Hibiscus Premium 2023
Our pitches and rates at the campsite