Camping nature
On the road to sustainable tourism!
Camping means nature!
Respect for nature and the environment is one of the pillars of our campsite.
The camping FLOWER LE MAS DE MOURGUES is nestled in the heart of the CAMARGUE Gardoise, and we pay a lot of attention to our environment. Accommodation and infrastructures are integrated into the landscape and maintenance is thought in a sustainable way to preserve the grounds.
But in addition, we have decided to take an eco-responsible approach. We have chosen to reduce our ecological impact by ensuring good waste management and equipment that reduces energy consumption.
We are implementing an environmental and socially responsible policy:
General environmental management, employee training, etc.
Resource management and sanitation, taps, watering,
Waste sorting, volume reduction,
Management of energy resources, heat, domestic equipment, lighting, etc.
Purchases responsible: food, maintenance, other purchases... removal of plastic
Customer awareness.
All this with respect for the resources, the territory and the people for the pleasure of living a responsible tourism.
Download our information (brochures, map of the campsite, rental inventories) as an eco-responsible gesture and access all the information about the campsite, schedules, services, activities, security etc.
Our campsite is located in the heart of the PETITE CAMARGUE natural park. In this natural setting, the preservation of the environment is an integral part of our concerns.
We implement several actions in order to offer you pleasant and always more eco-friendly vacations.
Respect for ecosystems
The preservation of nature is essential.
For all the work carried out, we have made sure that each tree is replanted in a new area of the campsite and/or we have proceeded to the planting of new subjects.
The campsite is planted with more than 50 olive trees that are regularly pruned; thanks to our harvest, customers can buy the oil in our small store.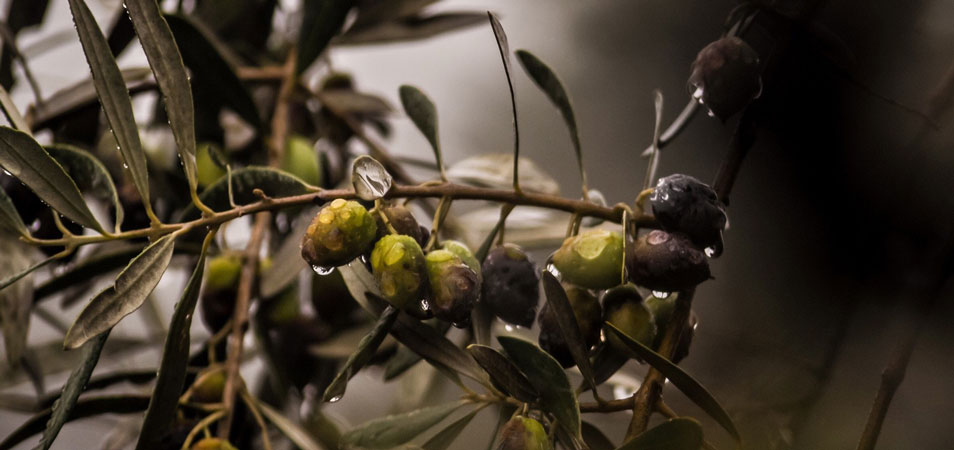 Between each pitch, we complete the separating hedges with shrubs and other plants in order to give you privacy and greenery for your vacations.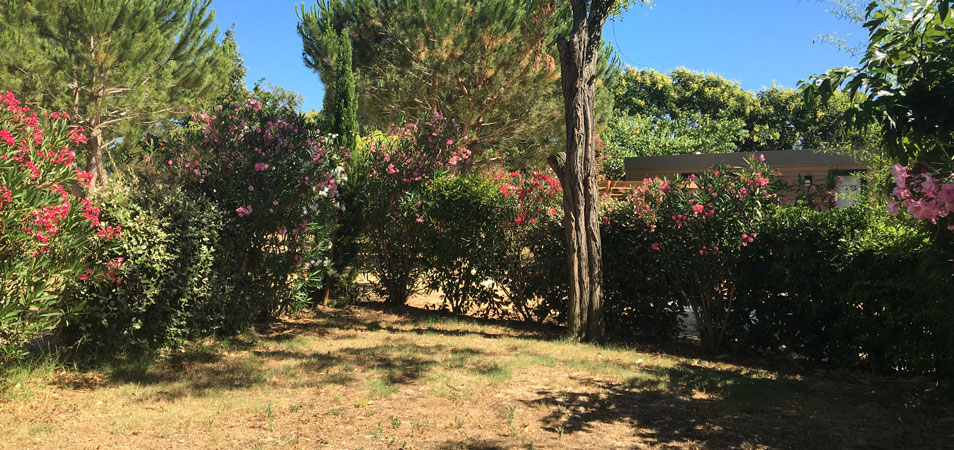 Water saving
In order to reduce water consumption, we water our green spaces drop by drop with water drawn naturally.
This quest to preserve water resources will also be noticeable with the toilet blocks and the installation of presto to limit the duration of water run-off.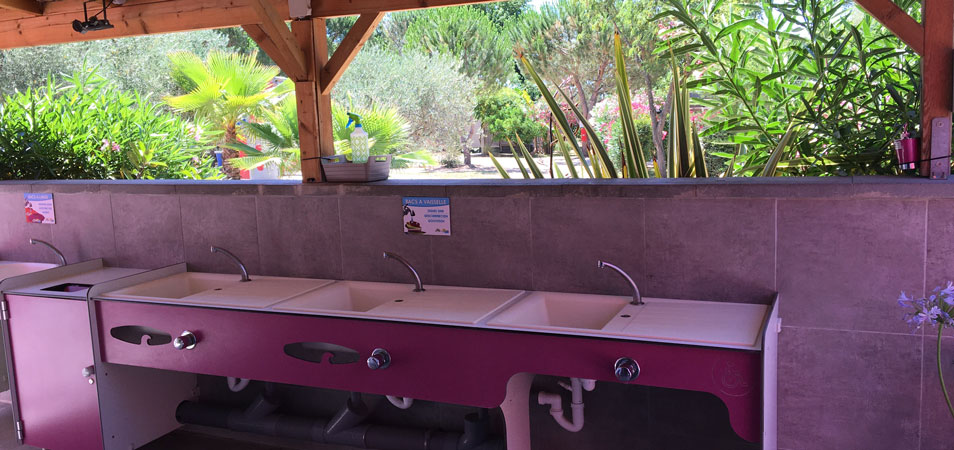 Energy saving
Saving energy is also at the heart of our concerns. For this reason we have installed solar lights in the campground's alleys and motion-sensing lights in the sanitary block.
Each mobile home has a key switch which allows the lights to be automatically switched off when you leave your rental.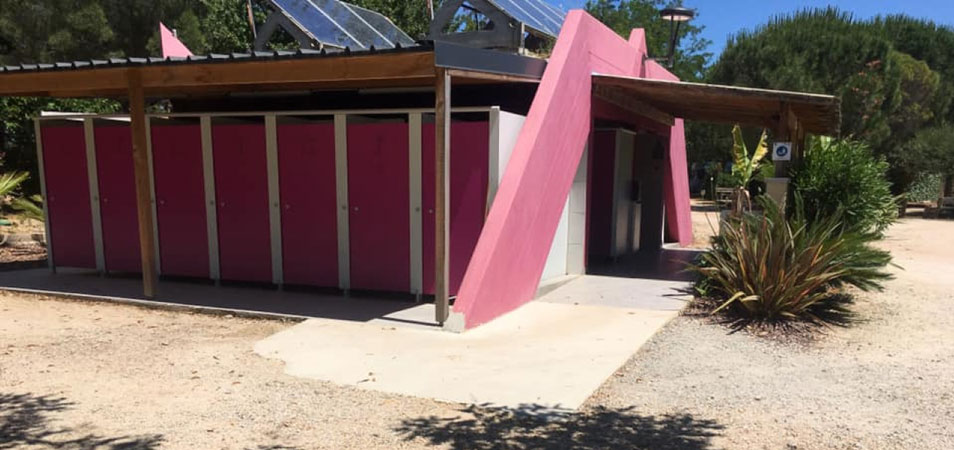 In addition, all our light bulbs are low-energy.
Animations
We have also decided to reduce noise pollution in order to limit its impact and preserve the fauna in the surrounding natural areas.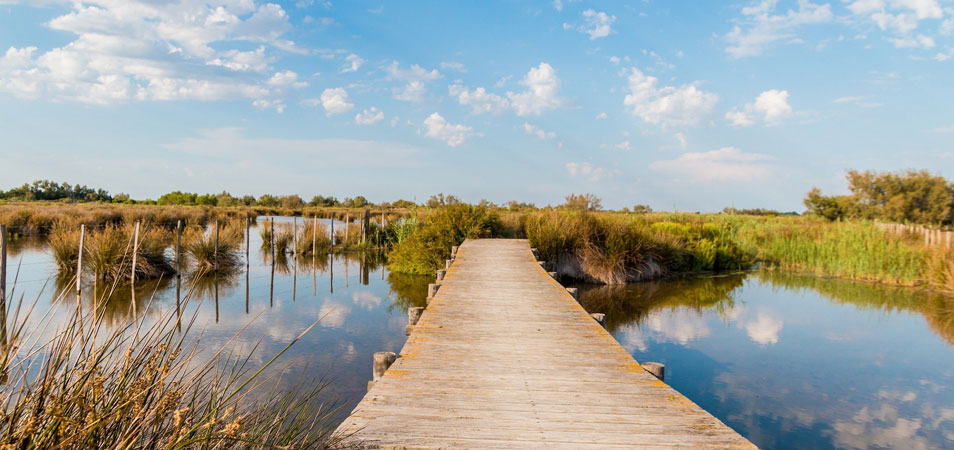 Infrastructures
We choose, whenever possible, natural and sustainable materials, with wooden infrastructures in order to limit the ecological impact.
We chose to maintain a natural and permeable floor covering to promote rainwater infiltration and limit downstream flooding. In addition, petrochemical materials have a heavy impact on ecosystems.
Cleaning products
In addition to using as little pesticides as possible, most cleaning products are organic and environmentally friendly. They are derived from Green Chemistry and limit their impact on flora and fauna.
Saving paper
At the reception desk, we limit our printing, we offer correspondence by e-mail and we now use recycled paper sheets to reduce our impact on the planet.
Recycling
In addition, we recycle our batteries and ink cartridges.
We have also chosen to connect the campsite to a collective sanitation system. Thanks to this, the waste water is directly sent to a purification center to be treated, which guarantees respect for the environment because if it is not treated, it could pollute the soil.
The ecological commitment of the campsite is part of a quality approach to preserve our nature and the future of future generations.